Disability inclusion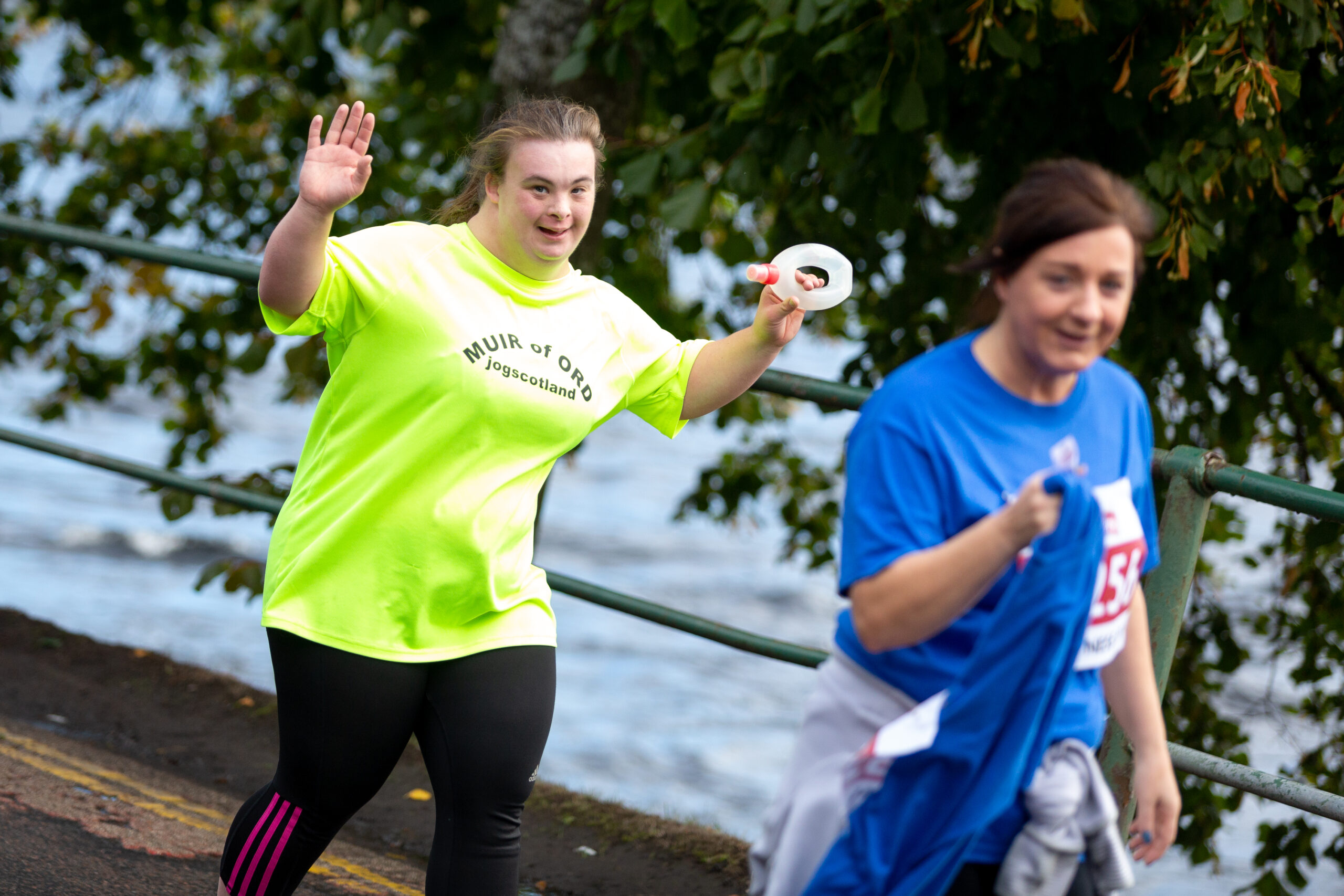 Pictured: Beth runs with Muir of Ord jogscotland – here she is taking part in the Loch Ness Marathon festival
jogscotland groups can provide a great platform for an individual with a disability to begin to be physically active, maintain fitness and enjoy the social aspect of exercise. Research shows that only 20% of people with a disability take the recommended level of physical activity and that 4 in 5 people with a disability want to take part in sport. Ensuring that your jogscotland group is an inviting, encouraging and supportive environment for all, regardless of ability, can only help improve these figures.
Within your group you may have individuals with a physical impairment (may use a wheelchair or be ambulant), a hearing or visual impairment, or a learning disability. It is possible to include individuals with all these impairments in your jogscotland group. Where possible, it is good practice to find out about their impairment before they begin, as this allows you to best support their needs.
Scottish Disability Sport uses the STEP framework to adapt any activity to ensure it is accessible to everyone. The framework encourages you to think about how can you change the Space you are exercising in, the Task you are carrying out, the Equipment that you use and the People that support.
Below are some points for your jogscotland group to consider using STEP:
Space:
Where is the activity taking place? Ensure the meeting point is accessible to all and routes can be formed from there.
Can the size be altered? Can the distance be changed? Shorten or lengthen the route, make sure there's space for a wheelchair or for a guide runner to be alongside.
What is the surface like? Paths and roads are better for wheelchair users. Uneven ground may be a hazard for someone with a visual impairment.
Could you offer an alternative route on a safer surface that has less possible hazards? Parks, promenades, and pavements could be the safest options.
Task:
What is the purpose of the activity? Could you achieve this in a different way, use a looped route rather than a long route for endurance.
Could you change the time or distance of the task? Set achievable goals for the individual's ability.
Are the instructions clear and simple? Break down instructions into small steps and offer reassurance, particularly for individuals with a learning disability.
Equipment:
Does an individual need specialised equipment? They may use a wheelchair or have hearing aids that require you to wear a mic.
Are you using cones as markers? Make sure these are clear and bright for someone with a visual impairment.
Do you use whistles or your voice for instruction? Use a whiteboard with written instruction or hand signals for someone with a hearing impairment.
People:
Who is involved in the activity? A wheelchair user in a large group could be a hazard, smaller groups with a staggered start could be safer.
Can someone assist? You might have a willing runner who could become a buddy. They could offer further instructions, encouragement, confidence.
Do you need a guide runner? Someone with a visual impairment may need a guide, this could be another runner or a volunteer.
Perhaps the participant could be encouraged to bring a friend or member of the family initially to support with their individual needs if needed.
These considerations are just some example of adaptations that could be made, there are many other possibilities. There is no right or wrong, be creative and have the confidence to experiment. Communicate with the individual, ask them how you could support them, they are the experts on their ability so make them count.
British Athletics Disability Inclusion Training
If you would like to learn more about how to include athletes with a disability the British Athletics Disability Inclusion Training course is now available online.
The course provides knowledge and understanding to overcome barriers to participation, ensuring that athletics, running sessions and activities are more inclusive for everybody.
The module is an interactive eLearning course and takes approximately two hours to complete. Your progress can be saved so you do not have to complete the course at one time.
To find out more or sign up for the course follow this link.
Other useful links
Scottish Disability Sport – inclusion activity cards
Scottish Disability Sport – online coach workshops
scottishathletics – information on opportunities for disabled athletes
scottishathletics – disability inclusion training course