I'm here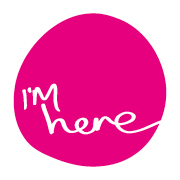 The I'm here campaign is a way for jog leaders to show their joggers that they're open to talking about mental health at their groups.
Jog leaders who complete SAMH's online mental health awareness module will receive an I'm here badge to wear, which they can use as a tool to start conversations with their members and show that they are open to chatting about mental health. The intention is not to turn jog leaders into trained counsellors, but to make them feel more confident to provide a listening ear, and know how to help members find more help if they want it.
All those wearing the badge:
Have taken online mental health awareness training provided by our partners SAMH (Scottish Association for Mental Health).
Will explain to members that the badge means mental health conversations are welcome at their group, and be open to those conversations.
Will use their social media platforms to share messages on mental health and physical activity.
Will do their best to support people with mental health issues to participate in their groups, listening to their needs and signposting them to further help if necessary.
Any new jog leaders who train with us will complete the mental health awareness module as part of their training, but if you are already a jog leader and would like to do it, please get in touch with Jo Stevens.
Develoment officer for jogscotland, Jo Stevens, explains: "We all have mental health, sometimes good, sometimes not so good. We want to make sure that anybody who wants to get active with jogscotland is made to feel welcome and supported, and believe that mental health challenges shouldn't stop people from participating.
"Whether it's reassuring an anxious new member, checking in with a jogger who has a long-term mental health condition, or simply lending a listening ear to someone having a bad day, we are proud that our jog leaders are equipped and open to doing what they can. Taking the mental health awareness training, posting online and wearing the badge, are all ways they can demonstrate their openness to having supportive mental health conversations."
jogscotland works in partnership with SAMH (Scottish Association for Mental Health) to promote the mental health benefits of jogging, and the I'm here initiative is part of the organisation's action plan as a signatory to SAMH's Mental Health Charter for Physical Activity and Sport.