Join jogscotland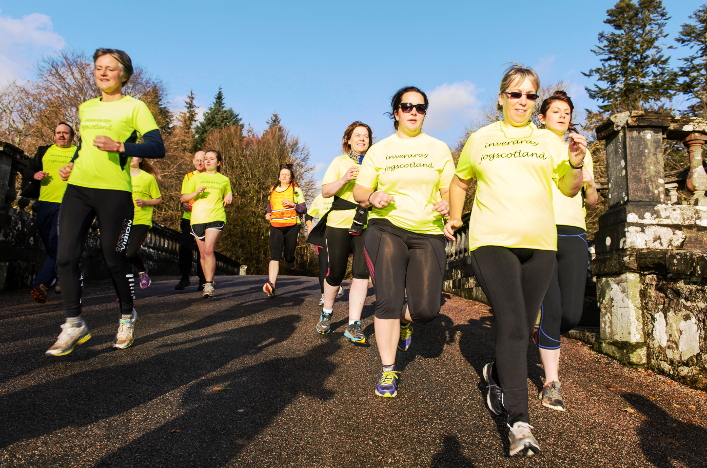 Please note: We are currently in the process of transferring to a new membership system. As a result, we are not able to take any new memberships or renewals for a period of around two weeks, starting from midnight on 30 October 2018. You may still start attending a jogscotland group during this time, but you must fill out our FREE online membership form as soon as it is back online. For more information, and to be notified when the new system launches, please click here.
You can also use our Group Finder to locate your nearest group, and get in touch with the group's Jog Leader to find out more.
Once you're a member
Once you've joined jogscotland, you'll be able to run with one of our groups. You'll receive email with a link to our Welcome Page for new members, full of handy tips, and with downloadable copies of our running programmes.
You'll also receive a copy of Stride, our digital magazine, four times a year.
We ask all members to renew with us once a year. There's no charge – it just helps us keep track of who's an active member. You'll receive an email to your registered email address reminding you when it's time to renew.
Benefits
As a member of jogscotland you are entitled to a 20% discount on AfterShokz's range of bone-conducting sports headphones using the discount code sent to you by email when you join.
Jog Leader membership
You can become a jogscotland Jog Leader member by completing one of our one-day Jog Leader Courses. On completion of the course you will:
Have the expertise to set up a new jog group, or lead at an existing group
Be insured to lead jogscotland jog group sessions
Receive links to useful online resources
Get access to the Jog Leader facebook group
We are now asking all Jog Leader members to renew on an annual basis. There will be no charge for this renewal, but it will enable us to ensure our records are up-to-date.
If you are currently a Jog Leader, we will contact you in due course and ask you to confirm your contact details, and that you would like to remain a Jog Leader for a further year.