Three new groups in one day!
Friday 27 April 2018
Above: Wishaw jogscotland with Law & District AAC
Three new jogscotland groups have been launched on one day as part of our communities project!
The project seeks to increase our reach into communities which are currently under-represented in our membership, and coordinator Andrea Gavin has been working hard to help create new jog groups across the west of Scotland in areas which currently lack them. She saw the fruit of her labours paying off in spades on 17 April, as lots of new joggers took their first steps towards an active lifestyle.
Andrea says: "It has been an amazing few weeks bringing everything together for launching not one, not two but three new jogscotland groups.
"First up was Just Jog in Greenock, this group is running in partnership with Just Jog, Your Voice Inverclyde and Active Communities, and is hoping to get more people out running in Greenock during the day and with a 9.30am starting time, it was quite easy for some of the group to drop off their little ones and brave a rather windy Esplanade in Greenock!
"The next group was Clydebank jogscotland, which is in partnership with WD Leisure, with three joggers turning up and giving week one a whirl. The group still has some spaces see their facebook page for more information:
"Then last but not least, it was time for Jog Scotty and I to continue our tour to the Wishaw Athletics Track for Wishaw jogscotland with Law and District AAC. There were 21 joggers along for the first session of the beginners block. It was such a fun start to the group and even the athletes took a (short) break from their session to come meet Jog Scotty and wish the joggers well with their session!
"If anyone would like more information on the groups please get in touch with me on andrea.gavin@scottishathletics.org.uk."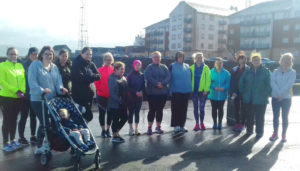 Meanwhile, our participation project coordinator Laura Kirkland has also been working hard on her patch.
She has a Jog Leader course due to take place at Perth Prison next week, aimed mostly at giving prisoners the chance to learn new skills, but with two staff members also becoming qualified Jog Leaders.
Work is underway to establish a new LGBTI jogging group in Dundee, and Laura has also organised a fun run in Torry to help promotion and recruitment, with a jogscotland Torry group due to be launched shortly. We were delighted that goody bags for the fun run supplied by our partners DW Fitness First.