Annual Awards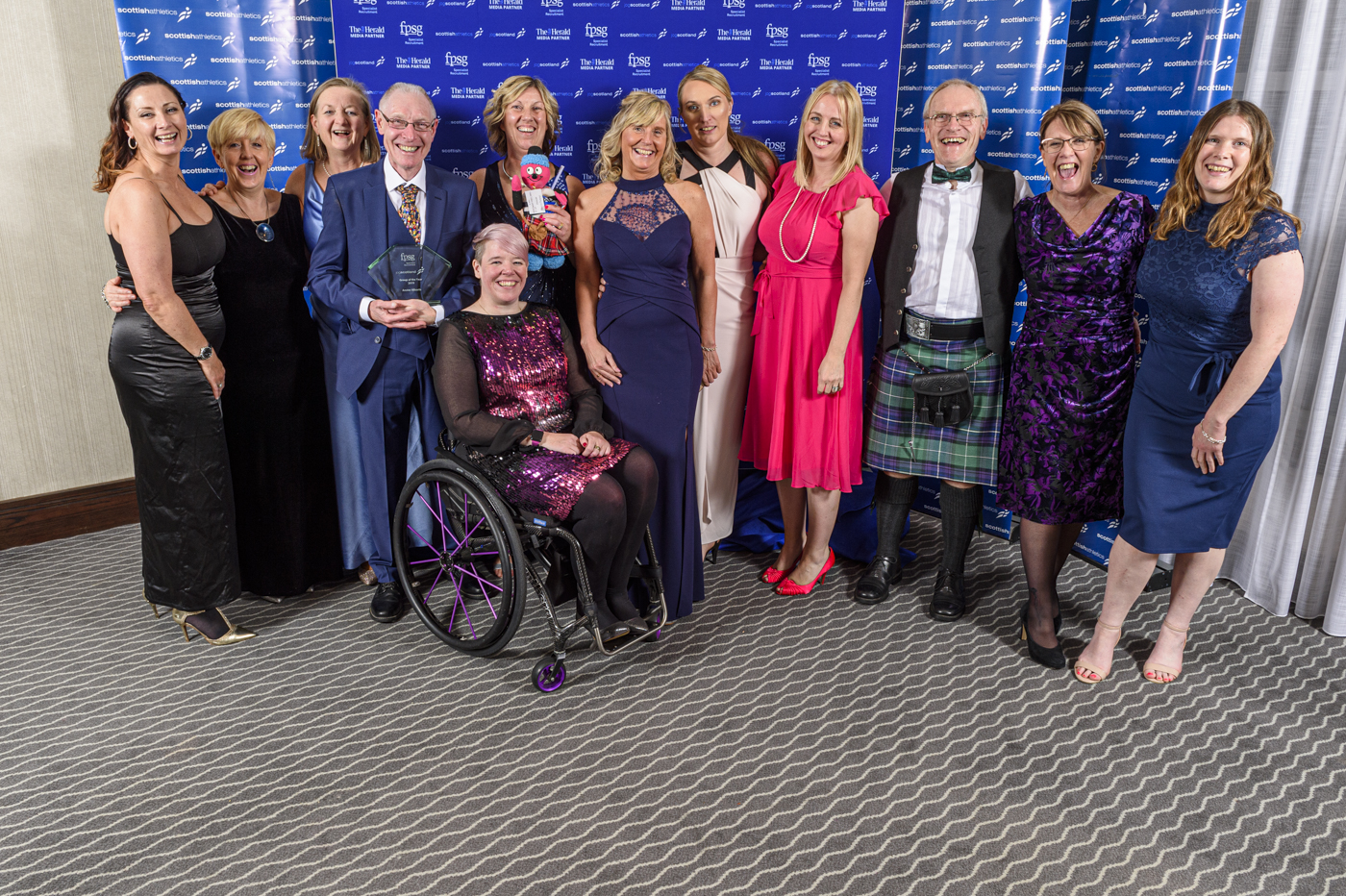 Above: Group of the Year, Anster Allsorts – all photos by Bobby Gavin
The winners of our 2019 Annual Awards were announced at the scottishathletics and jogscotland Awards Dinner in Glasgow on 23 November, with Guest of Honour Paula Radcliffe. We were thrilled to celebrate the very best of jogscotland with our four awards, which went to people who exemplify the determination, achievement and sheer enjoyment that our jog leaders and joggers are a part of across the country, all year round.
The winners were:
Jog Leader of the Year: Marie Dobson – Newmachar Running Group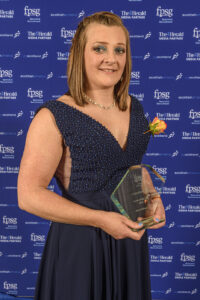 Marie has been a jog leader with Newmachar Running Group almost since it started. She previously overcame breast cancer, but was more recently diagnosed with incurable secondary cancer, affecting her bones. She is determined to get the most out of life, however – and that includes continuing to inspire and encourage her joggers. When she was told she could no longer run, the group raised funds and bought her an electric scooter, and now she attends her jog group riding alongside them, motivating and supporting them as much as she always has. She remains one of the most positive people you could meet, cares for everyone else before herself, and strives to make each member of the group to feel good about themselves and their achievements.
Jog Group of the Year: Anster Allsorts (pictured above)
The Allsorts truly cater for all abilities. In addition to their jogging sessions, this year they established Walksorts, a walking group that enables non-runners, returners, and injured joggers to keep active. They reward achievement at all levels with the monthly Bertie Bassett challenge, offering prizes for the most improved. They take running seriously but the emphasis is on the friendships made, with everyone sharing a cuppa after their run, and initiatives like a book swap between members.
They took part in jogscotland's I'm here pledge this year, with jog leaders taking SAMH mental health awareness training and pledging to encourage conversations about mental wellbeing at their group. They are also supporting a research study with University of St Andrews to encourage GPs to prescribe jogscotland groups to their patients.
They also support numerous charities, including an annual food bank collection.
Achiever of the Year: Bob Strathie – FIT Together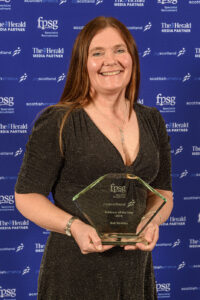 Bob joined FIT Together's beginner jogging group in February at the age of 71, having never been a runner before. He had always been a keen walker and was eager to join the group and see what he could do. He quickly rose to the challenge of sessions of all types, undaunted by hill reps, fartleks, and the like. By May, he was ready for his first parkrun, completing in a little over 34 minutes – though he was too busy blethering to get an official time! He has since reduced his PB to 28:43. His decision to take on a new challenge and his commitment to improve are a real inspiration.
* Bob was sadly unable to attend the awards but his jog leader Caroline Ness collected his award on his behalf (pictured)
SAMH Mental Wellbeing Award: Jill Spink – Marie Curie in Edinburgh
Having herself been bereaved when her mother passed away on Christmas Day 2017, Jill has a first-hand understanding of the impact that grief has on mental health and wellbeing. As a runner, she also knows that being physically active and connecting with others can have a positive effect on emotional health. She set up a running group with Marie Curie Edinburgh specifically for bereaved people, to provide support and companionship, as well as the benefits of exercise. One member says: "The group helps reduce my anxiety, is a valuable opportunity to socialise & helps me stay healthy for my children. Jill is that rare type of life-affirming person who helps us honour our departed loved ones by doing the exact thing they would want us to do, and that is to live, rather than just be alive." Bellow: Jill receives her award from SAMH Chief Executive, Billy Watson