jogscotland Award Winners 2018!
Sunday 4 November 2018
We are delighted to announce the winners of the 2018 jogscotland Awards! Our winners in four categories were announced last night at the glittering FPSG scottishathletics and jogscotland awards, held at the Hilton Hotel in Glasgow. It was a fabulous night for winners and nominees alike, with the chance to hear from (and get photos with!) special guest, double Olympic gold medallist Dame Kelly Holmes, and some of the cream of Scottish athletics talent including Laura Muir, announced on the night as Athlete of the Year 2018.
The winners are:
jogscotland Achiever of the Year
Gary Brown (jogscotland Meldrum)
jogscotland Leader of the Year
Alex Bain & Ian Donaldson (STAART)
jogscotland Group of the Year
Edinburgh Frontrunners
SAMH Mental Wellbeing Award
HM Perth Prison – Jog Con
Read on to find out more about our winners…
jogscotland Achiever of the Year – Gary Brown (jogscotland Meldrum)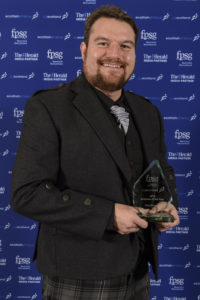 Gary suffers from stage 5 kidney failure and undergoes dialysis three times a week, for five hours at a time. On being told he needed to lose weight and improve his fitness in hope of receiving a kidney transplant, he joined jogscotland Meldrum. Despite his incredibly draining treatment and variable health, he has been determined to keep up his running habit, has completed several 5Ks and continues to improve. He has not only lost weight but gained both confidence and new friends, in the face of tremendous challenges.
jogscotland Leader of the Year – Alex Bain & Ian Donaldson (STAART)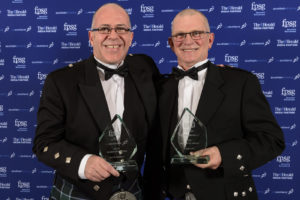 Alex and Ian are described as the backbone of the group, strong, supportive and selfless. It was clear from their nominations that they not only make great leaders of the group as a whole, but spend huge amounts of time and energy providing individual support to each member of the group to help them achieve their goals. Testimonies of this were received from a wide variety of runners, including a 79-year-old, a jogger with mental health difficulties and another in recovery from a stroke, who all felt Alex and Ian had supported them individually with great care and attention, as well as the group.
jogscotland Group of the Year – Edinburgh Frontrunners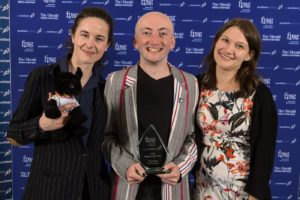 Edinburgh Frontrunners is the city's running group for LGBT+ people and straight friends. The group caters for all levels from walkers to ultrarunners. The group aims to provide a welcoming and safe space for all. Not only does it work to combat homophobia and transphobia in sport, it also supports many members with chronic health conditions and disabilities including Crohn's disease, mental health issues, deafness and cerebral palsy.
The group is a world pioneer when it comes to non-binary inclusion in running – its Pride Run 2017 was the first race in Scotland to officially recognise non-binary entrants and the group has advised on the wider move to allow event organisers to recognise non-binary athletes in Scotland.

SAMH Mental Wellbeing Award – HM Perth Prison – Jog Con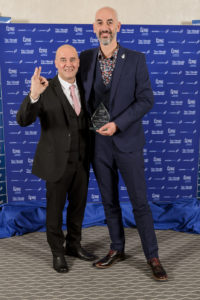 The prison hosted a Jog Leader course in May 2018, training two members of staff and six prisoners. They set up a Couch to 10K programme, running laps of the football field and prison every Wednesday morning. Both leaders and joggers improved not only their physical, but mental health considerably, and had a knock-on effect on the wider prison population, with banter from the so-called "window warriors" who looked on – and a waiting list for the next programme.
The prison officers nominated the leaders for their determination to improve both their own and other people's lives within very limited circumstances, making them more positive and hopeful, and "helping us in breaking down barriers and building bridges to help transform lives of people within their closed community."
We'll have more photos from the night on facebook in the coming days – make sure you click here to Like our page so you don't miss them!