Are you ready for OUTrun?
Thursday 13 July 2017
Join us for OUTrun, a 5-mile chip-timed run through one of Glasgow's most scenic and best-loved dear green places. Starting at the Kelvingrove bandstand, this run takes you through Kelvingrove park and along the Kelvin walkway. It is relatively flat, but organisers Glasgow Frontrunners know how runners like a challenge, so have kindly added in a couple of wee "inclines"!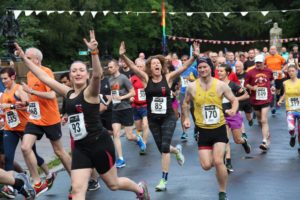 This year Glasgow Frontrunners are excited to be included in the jogscotland challenge series – events all around the country chosen to be particularly welcoming to newcomers – and look forward to welcoming new runners to the course.
There are added extra prize categories for Largest Club Entry, Fastest Team, Best Finisher, and Best Cake! And, the FrontRunners are delighted to welcome back Kerry Murdoch from Troon Dynamic Fitness to put you through your paces during the warm-up.
Calling all home bakers! Runners love a bit of cake so there will be a home baking stall offering free cake to all runners and volunteers at the end of the run. All contributions are welcome and if you want to bring something along to share with your fellow runners please drop it at the stall before the race starts. There is a prize for the Best Cake on the theme of Running with Pride!
Charity. This year Glasgow Frontrunners are raising money for two charities, Amnesty for their work in protecting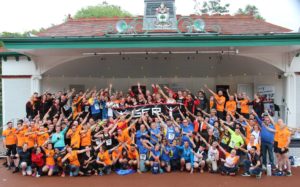 LGBT people in Chechnya, and LGBT Health for their work in promoting health, wellbeing and equality in the LGBT community in Scotland. All contributions are voluntary on the day.
Prizes There will be prizes for the fastest male/female runners and in age categories over 40s and 50s, and Fastest Team (based on first 3 over the finish line from any club except Glasgow FrontRunners). But, running isn't just about being the fastest, so for 2017 there are a few other prizes too – there will also be a prize for the Largest Club Entry (£50 to donate to your nominated charity); Best Cake; and the Best Finisher for the runner who crosses the finish line in the most style!
See the OUTRun Facebook page for all the latest information.
Or click to enter here (closes 30 July)
Want to know more about the race? Watch this film to see where you'll be running. Animation by Gordon Howie.
OUTrun is organised by Glasgow FrontRunners, Scotland's largest LGBT+ sports club. For more information about our club visit www.glasgowfrontrunners.org or check their Facebook page for all the latest information.