OUTRun joins the jogscotland Challenge Series!
Monday 27 March 2017
The jogscotland Challenge Series is back for 2017, with a series of events that we particularly recommend for joggers of all levels. Each year, we partner with event organisers to promote events that we think particularly embody the jogscotland ethos – inclusive, fun and friendly, celebrating achievement at all levels.
Visit the jogscotland Challenges page for full listings
We're delighted to announce a new addition to the series this year – Glasgow FrontRunners' OUTrun, a five mile event in Kelvingrove Park.
Glasgow FrontRunners are one of Scotland's largest LGBT+ friendly sports clubs, and the OUTrun has become their flagship event, taking part on the same weekend as Glasgow Pride. We are delighted to include the event in the Challenge Series and help promote it to the wider running community.
it is open to all joggers regardless of gender, sex, sexuality or age, and we encourage everyone to go along and enjoy the wonderful atmosphere on the day.
Richard Allwood, Glasgow FrontRunners' Running Events Organiser, said: "It's tremendous that OUTrun is being included in the jogscotland Challenge Series for the first time. We have strong representation from the LGBT+ community but the really good thing about OUTrun is that it touches the wider community and beyond. In previous events, we have attracted other run teams and pockets of the community who haven't run with us before."
We are also welcoming back to the Challenge Series some tried-and-tested favourites. The series kicks off on 23 April with the three mile Run Balmoral Trac Wee Trail Race. This year marks the 20th anniversary of Run Balmoral, with around 5,000 runners expected at the Royal estate for a weekend of events which also include the testing 15 mile trail race and bike/run duathlon.
On 14 May we move to Drumpellier Country Park in Coatbridge for the Monklands 5K, run by our partners North Lanarkshire Leisure. This flat 5K route is part of a fun day of events for the whole family, from toddler dash up to half marathon.
We join Glasgow FrontRunners for the OUTrun in Glasgow on 19 August, and on 27 August return to the Hawick 5K, organised by Teviotdale Harriers. With a small field and a friendly feel, it's a perfect day for those wanting to try their first event in a supportive atmosphere.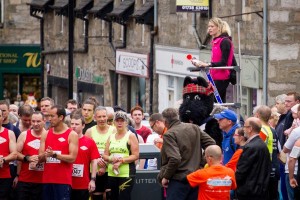 On 17 September we join Live Active Leisure for the jogscotland Challenge Pitlochry 5K (pictured left), held on the same day as a 10K distance, with a tremendously scenic route for both races.
We move to Inverness on 24 September for the River Ness 5K and 10K. These, the largest runs in our series, take place on the same day as the Loch Ness Marathon, with a buzzing event village on site making sure there's a sense of occasion for all.
We finish up with our traditional Christmas Cracker 5K on 3 December at Broadwood Stadium in Cumbernauld – Santa suits at the ready for everyone launching their festive season with a touch of fancy dress.
We'll see you at the start line!