jogscotland Award winners announced!
Monday 6 November 2017
The winners of this year's jogscotland Awards were announced at a glittering ceremony in Glasgow on Friday, as part of the scottishathletics and jogscotland FPSG Awards. The night saw more than 500 guests, from beginner joggers to World Championship medalists, celebrate the very best of the sport in Scotland. Special guests were Jenny Meadows and Kelly Sotherton, and there were also plenty of chances for jogscotland members to meet and take photos with some of the cream of Scottish talent, including Para Athlete of the Year Sammi Kinghorn, and Athlete of the Year Callum Hawkins.
Above all, we were delighted to have the chance to celebrate the achievements of  a wonderful selection of joggers, leaders and groups, who all exemplify the very best of the jogscotland community.
A particular highlight was the inclusion of the first ever SAMH Mental Wellbeing Award, to mark our partnership with Scotland's mental health charity. SAMH Chief Executive Billy Watson was proud to present the award to Jenni-Rees Jenkins of jogscotland Kintore.
Achiever of the Year – Yvonne Douglas, Alness jogscotland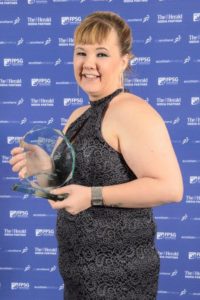 Yvonne began Couch to 5K with Alness jogscotland in August last year. Since then she has lost six stone, and knocked an incredible 16 minutes off her 5K time, despite battling injury. Before taking up jogging, Yvonne suffered a badly broken ankle and spent nine days in hospital after having pins inserted. To try and lose the weight she put on as a result, she and a friend decided to take up jogging and signed up with Alness jogscotland. With an original 5K time of around 50 minutes, she has improved steadily and surely, and is due to take part in her first 10K run this autumn. She suffered a further injury at the beginning of this year, but took time to recuperate and went straight back to working towards her running goals. Her nomination described her as "a total inspiration".
Leader of the Year – Arlene Botha, Galavanters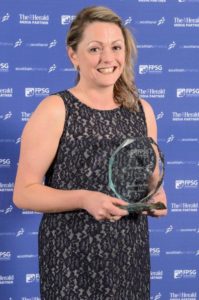 Arlene leads five sessions a week for her group members, and is described as "A Mrs Motivator, a very good friend as well as a leader". This year she has achieved all this while training for an ultramarathon herself. Her sunny personality, both highly organised and caring, is an inspiration to all her members, who range in age from 16 to 72. Galashiels is now flooded with blue jogscotland T-shirts, with 60+ joggers turning up every week – all of whom Arlene knows by name. She puts huge amounts of energy into every session, organises social gatherings after every race, and makes people of all ages feel good about themselves, helping them set and achieve their own running goals.
jogscotland Group of the Year – Tain Joggers (pictured above)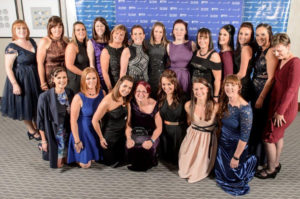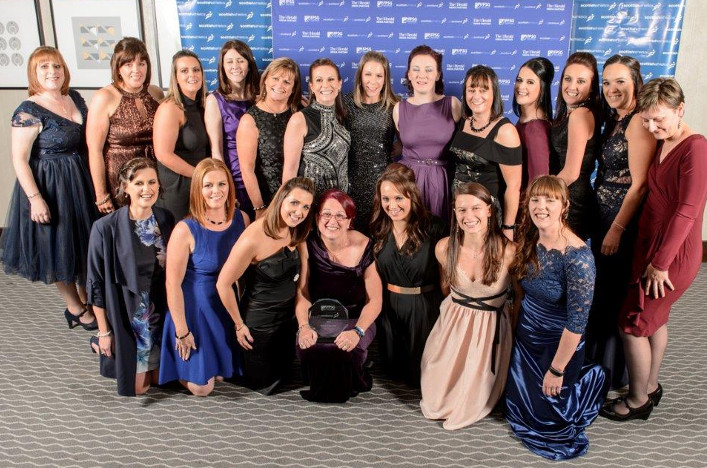 Also known as Team Purple, the group is relatively new, having formed in April 2016. Founder and leader Cynthia Duncan is the driving force behind the group, pre-running session routes to check their suitability, keeping in touch with members who have taken time out, and leading two sessions a week – along with a monthly pay day run, which finishes at the pub, dubbed 'The Prosecco Run'! The group also takes part in virtual runs, completing set distances together and receiving medals for logging them online. Having started with Couch to 5K, 22 members of the group are now preparing to travel together from the Highlands to London to take part in the Landmarks Half Marathon, all supporting different charities of their choice. With options of routes and sessions for all abilities, the group is praised as supportive and sociable. One nomination said: "We are like a big family and support each other so much. Everyone has been on such a journey since we started in 2016."
SAMH Mental Wellbeing Award – Jenni Rees-Jenkins, jogscotland Kintore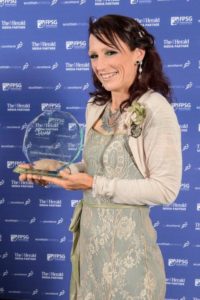 Jenni started running again in 2011 when she was mum to a sick baby and toddler and was battling chronic tiredness and on-going depression. Her friends persuaded her to join a jogscotland group and within eight months she had lost five stone and completed her Jog Leader qualification. Since then she has never looked back and quickly went from a 10km road runner to taking up hill running – and now appears regularly on the ultra-marathon scene. Jenni is very open about what running has done for her mental health and explained in a recent article that "some days I don't cope with planet Earth very well but a run in the woods or up a hill gets it all sorted and I give myself a good talking too". She ran ultras throughout 2016, completing 5000km and raising more than £5K for MNDScotland. She also ran London Marathon to raise funds for the mental health charity Heads Together and met Princes William and Harry afterwards to discuss how running has helped her mental health.