Sammy's Road Trip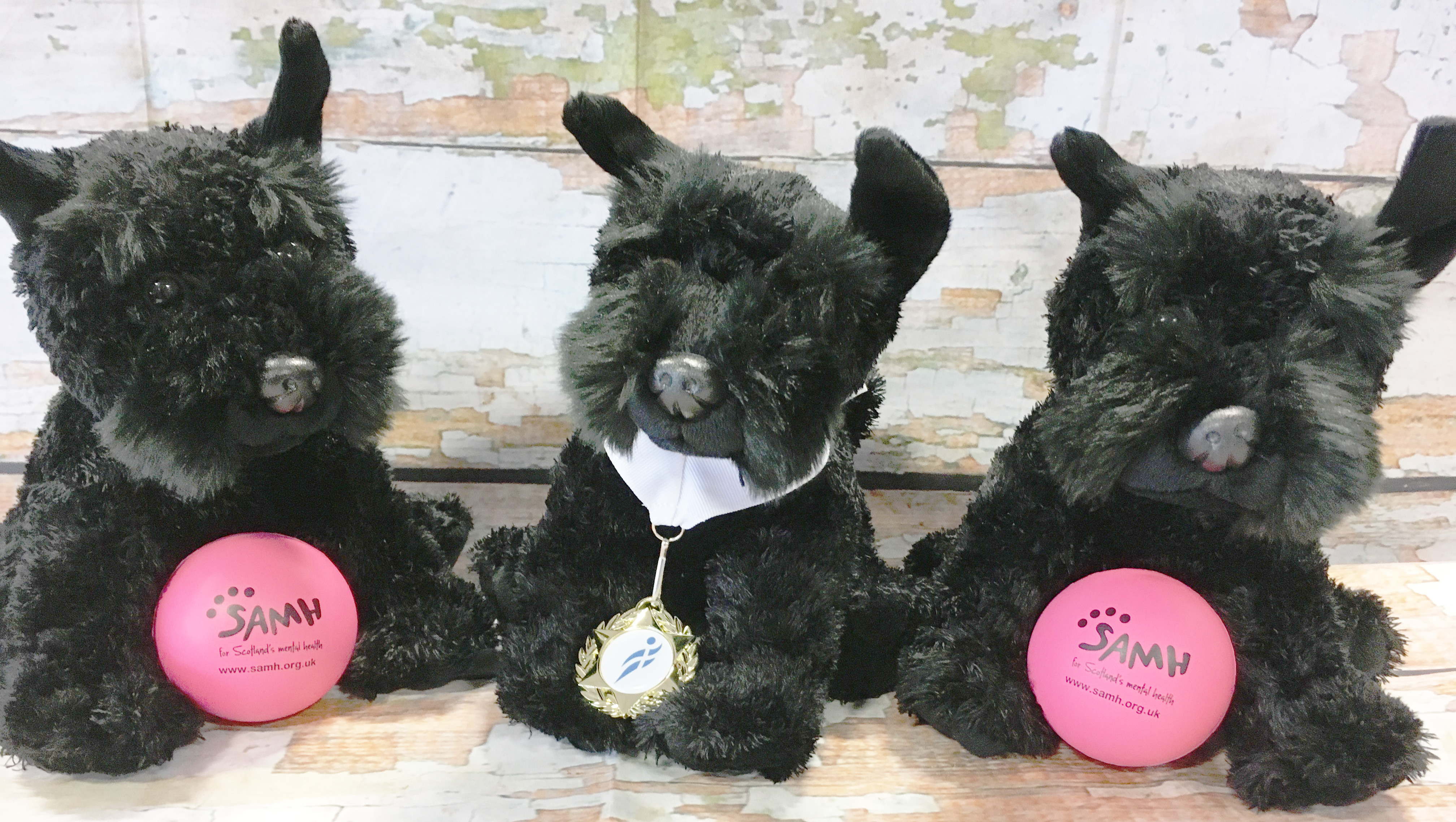 Our mascot Jog Scotty has had pups! Sammy, Agnes and Lee are small black toy dogs who represent physical and mental wellbeing, a symbol of the partnership that exists between jogscotland and SAMH (Scottish Association for Mental Health).
They are part of a new initiative to help jog groups who want to participate, to engage in conversations around mental health and wellbeing.
Jog Leaders who want to take part will sign up to take care of one of the dogs for a few days, take it along to their jog group for photos, and use it as a starting point to introduce a session focussing on mental health and wellbeing. Each dog comes with a toolkit containing several ideas for sessions. Groups will share their photos on social media with a few details of the session they host, to inspire others, and these will in turn be shared by jogscotland nationwide.
Sammy and siblings will make their way from group to group, travelling around Scotland and finishing back at jogscotland HQ in Edinburgh in time for World Mental Health Day in October. As well as getting joggers talking, we hope their journey will provide an opportunity to connect neighbouring jogscotland groups if they are able to pass him on in person.
We hope the initiative will help jog groups promote wellbeing to their members, provide an opportunity to meet and share with other groups and to let the population of Scotland see that jogscotland is working to reduce barriers to participation in physical activity, and also to challenge stigma and discrimination surrounding mental health. 
What's in the toolkit?
The toolkit contains four ideas on how to host a mental health awareness session, social media instructions and a press release template. These will be emailed to leaders who register to take part.
Each puppy will also carry a journal which your jog group can write in before passing it on to the next group.
How will it work?
Jog groups will be required to register their interest via a google form before taking part in the event. Once registered, a route will be plotted which links all interested groups in a geographical order. All interested groups must register before 20 April 18. The pups' journey will commence on 7 May 18.
If you and your group would like Sammy or one of his siblings to visit you must agree to the following terms and conditions:-
By signing up to the event, your group agrees to promote physical health and mental wellbeing and to document your group's involvement on social media (or send pictures/evidence to HQ). Guidance on this will be found in Sammy's toolkit.
Only one jog leader per group should register.
You must contact the next group on the pup's journey and make arrangements to get the dog to them for their allotted week. If possible, we would encourage groups to pass the pups on in person, to build links with neighbouring groups. However, we recognise that this may not always be possible, and in this case we would ask groups to package the dogs and contact us to arrange postage/courier (jogscotland will pay postage/courier costs). Please contact Jo Stevens, Membership Development Officer by email on jo.stevens@scottishathletics.org.uk.
Your name, email address and phone number will be shared to other jog leaders who have registered to participate so that arrangements can be made to pass the dog from group to group. This will be done on a password protected spreadsheet, and the password shared with other participating jog leaders.
You must use at least one resource from the toolkit or substitute your own similar session that promotes a positive mental wellbeing message, and document which you used on social media.
You agree that any photos or videos taken during the puppy's visit can be shared on jogscotland and SAMH's social media platforms, websites, and for other publicity purposes. Please explain this to session participants.
You and your group will take full responsibility for the puppy's physical wellbeing whilst they are in your care and that they and the complete resource pack are passed onto the next group.
Ready to sign up and be a part of the first ever jogscotland mental health and wellbeing road trip?