Getting moving for Active Girls Day!
Friday 5 October 2018
It's Active Girls Day and jogscotland groups around the country are marking it with sessions designed to inspire girls to get moving.
Studies show that girls are much less likely than boys to take part in sport and physical activity, so Active Girls Day aims to encourage more girls to get active, and to show them it can be fun. And it's not just the younger girls getting in on the act – lots of jogscotland's women are taking part too, to provide role models to the youngsters and celebrate their own love of physical activity.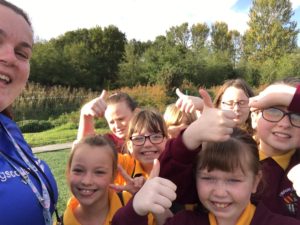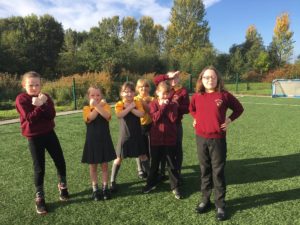 At Firpark Primary in Motherwell (pictured), jogscotland's own Andrea Gavin led a junior jog session this morning with a cool down that featured Wonder Woman poses and mindfulness exercises. Jogscotland Portlethen led a girls' session at Portlethen Academy with movement drills and a jog and produced a brilliant wee slideshow so we could see them all hard at work. The girls were given homework to find out more about a favourite inspirational athlete – and we hear Paralympian Laura Steadman, currently featuring on Strictly, has been a popular choice!
Ardler Runing Ladies in Dundee (below) held their session on Wednesday with relays, cupcakes and goody bags. Other jogscotland groups arranging their own special runs include Muirhead Marauders, Inverurie Mums on the Run, AAA Women's Fitness in Falkirk and Mums on the Run St Andrews.
And in the jogscotland office, we are of course leading by example, with staff heading out for lunchtime walk and jogging sessions. Happy Active Girls Day to all our active girls, and everyone who supports them!