Equality
jogscotland is a part of Scottish Athletics Ltd (trading as scottishathletics). scottishathletics endorses the principle of sports equality and will strive to ensure that everyone who wishes to be involved in athletics and running (in all their disciplines and forms), whether as athletes, joggers, casual participants, club or group members, officials, volunteers, jog leaders, coaches, office-bearers in clubs/groups, or those within the governance structure of scottishathletics:
has a genuine and equal opportunity to participate to the full extent of their own ambitions and abilities, without regard to their age, sex, gender identity, disability, marital or civil partnership status, pregnancy or maternity, religion, race, socioeconomic status or sexual orientation; and
can be assured of an environment in which their rights, dignity and individual worth are respected, and in particular that they are able to enjoy their sport without the threat of intimidation, victimisation, harassment or abuse.
You can also download:
If you have a query relating to equality at scottishathletics and jogscotland, please contact our equalities officer, Francesca Snitjer.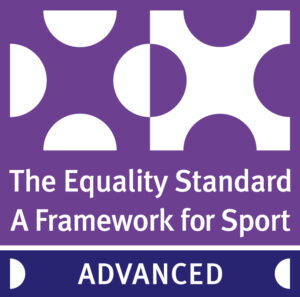 scottishathletics is proud to have achieved the Advanced level of the Equality Standard for Sport.
Equality and diversity advisory group
As part of our ongoing work to uphold the principles and values of equality across our sport, we have established a voluntary equality and diversity advisory group to assist us in leading the way.
The group has members from a variety of backgrounds, experience and perspectives who are passionate about equality and committed to pursuing it within athletics. The group's remit is to provide advice and guidance on all equality matters; ensuring practical, strategic and operational support is sustained for the development and delivery of our equality action plan, in addition to supporting our equality working group and board members in relation to equality and diversity.
Xabier Cid
Xabier has been working in LGBTI societies and activist groups during most of his adulthood, both in Scotland, and in his home country, Spain. He studied MSc in Sports Management at the University of Stirling, where diversity, equality policies and legislation were all extensively covered. As part of his degree, he carried out research on diversity issues, focusing on the challenges that affect gay men in the practice of sport.
Although his main area of expertise is LGBTI+, Xabier is also passionate about the social and economic divide in athletics in Scotland, particularly among ethnic minority groups.
Xabier is a Level 4 UKA Athletics Official and has volunteered in the Glasgow 2014 Commonwealth Games and the London 2012 Olympics.
Alasdair Donaldson
Alasdair is an experienced leader in the sports profession with extensive knowledge in both performance and strategic management.
With experience primarily in the Paralympic sector, he has gained a great deal of understanding of the barriers which face people with disabilities in being able to access sport in general.
Currently working for British Triathlon as Paralympic Talent and Development Manager, Alasdair has a good understanding of the Equality Standards for Sport required of the National Governing Bodies.
Zaffir Hakim
As a former Development Officer for STUC's One Workplace Equality Rights project, Zaffir has over a decade of experience leading on successful projects to mainstream equality and tackle discrimination in the workplace. He has also worked closely in partnership with advisory groups such as the Equality and Human Rights Commission, Inclusion Scotland, and BEMIS.
Further experience of building and cultivating partnerships has been attained through the creation of community links between diverse groups to promote active citizenship through a human rights-led approach, with a focus on social justice, youth unemployment and advancing employment opportunities for women.
Zaffir was also a Workplace Officer at See me Scotland in 2017, promoting positive mental health and wellbeing in the workplace.
Noanie Heffron
A keen ultra-runner, Noanie is also race director for Jedburgh Three Peaks Ultramarathon and assistant race director for Highland Fling Ultramarathon.
With a solid working knowledge of the various protected characteristics covered by the 2010 Equality Act, Noanie has a particular interest in the issues faced by non-binary people. This passion has led her to persuading the Jedburgh Running Festival Committee to add a third gender category to all of their events.
Noanie has a proven track record of developing effective equality partnerships having worked collaboratively with various LGBTI sports groups and charities and providing assistance to Scottish Athletics with their proposal to allow for the inclusion of a third gender category in mass participation events.
John Owens
Throughout his working career, John has been a passionate advocate for those who find themselves impacted by discrimination or adverse childhood, adult, or community experiences. As a former Senior Social Worker and athletics coach John has dedicated his time, contributing to meaningful change within communities.
His own life experiences have shaped and influenced his desire to challenge discrimination.
During his time as volunteer and Club President with Springburn Harriers, John led a transformational programme that saw the club recognised by Scottish Athletics for its impact and work collaboratively with partners to ensure access to our sport for all irrespective or ability or background.
John is currently a coach at Shettleston Harriers.
Graeme Stewart
Graeme's role as Club Development Officer at Harmeny AC and his background in Equality Law, make him a great asset to this group. In his role as Club Development Officer, he has operated at both corporate and managerial level dealing with charitable organisations and community groups such as the Clovenstone Community Centre and SCORE Scotland.
Together with the Club (who were voted Scottish Athletics Impact Club of the Year 2019) Graeme works hard to address areas of inequality and working with harder to reach groups; supporting disability athletics provisions at schools, establishing links with local disability athletics clubs, and providing accessible opportunities for adults to progress from inactive to active.
Graeme has a keen interest in sports and has not only successfully completed the Scottish Athletics Coaching Assistant Course but is also a qualified Cycle Scotland coach.
Karen Wallace
A qualified solicitor with over 20 years' experience in equality, diversity and inclusion, Karen is passionate about driving positive change and building respectful, inclusive cultures where everyone can thrive. Throughout her career in the public sector, she has immersed herself not only in equality, but also the promotion of good mental health and wellbeing.
Karen brings a blend of skills to the group, offering an inspiring, determined and strategically driven commitment to creating an inclusive culture, practice, and services.
In her previous role as Inclusion and Diversity Manager at SCRA, Karen developed Inclusion Ambassadors and employee networks, established a successful Women in Leadership Network and helped SCRA achieve the LGBT Youth Scotland Charter. Since March 2020, Karen is the Equality, Diversity and Inclusion Manager for ScotRail.