Ros Jemmett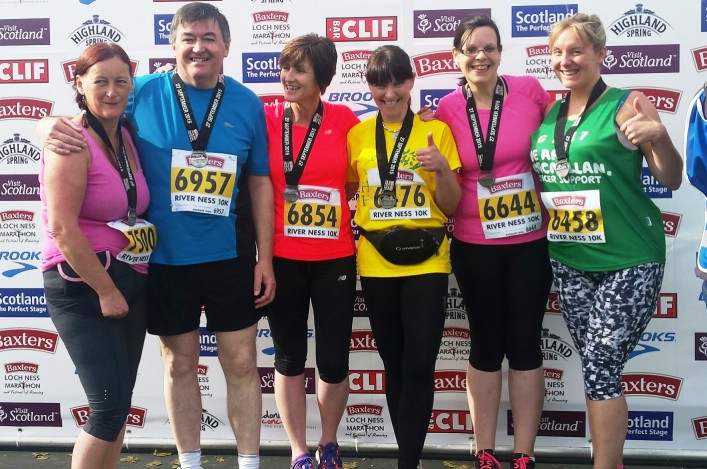 Ros, pictured above in orange, with members of Alness jogscotland at the end of the River Ness 10K
I am not an athlete, or even a fast runner, I am very much an average, middle of the pack runner. I run because I enjoy it, it keeps me fit, keeps me sane and makes me happy. I originally took up running when I was about 19 and my motivation was to stop smoking as the cost of a packet of 20 had gone up to £2!
A friend and I decided that we would take on the challenge of running the Inverness Half Marathon without any idea of exactly how much hard work this would involve. My friend didn't run it in the end but I did, it took me a very long time but I did it and kicked my habit!
While my children were young, running took a back seat but as they grew older and I had a bit more time to myself, I started running a bit more regularly, taking part in the Race for Life event and other 5 and 10Ks in my area. A few years ago a group of us decided that we would take on the Inverness Half Marathon, and crossing the finishing line and receiving my medal, 27 years after my first half marathon, felt just great.
One friend, apart from running with me once a week, also joined her local jogscotland group in Muir of Ord and the support and help she got from this really helped her stay on track and enjoy the training. I had always heard great things about jogscotland, but didn't think a middle-aged recreational runner like me would be the sort of person to become a Jog Leader, never mind set up a group!
However, after doing some research I thought "No, I can do this," and as my 50th birthday was fast approaching I enrolled in a Jog Leader course, which was really fun whilst at the same time being really informative, and set about starting a new group in my home town of Alness.
Word soon got around about the new running group and I had quite a few people contact me who had never ran or who used to run but haven't for so long felt they never would again, and so I decided to do a Couch to 5K coaching session. I expected maybe 10 to 15 people to turn up and was quite overwhelmed when 30 did!
I have to say that it was one of the most satisfying things I have ever done, I felt so proud and happy for everyone who completed their first 5K. We now run regular Couch to 5K courses, and our members take part in all kind of events of different distances. The pride I feel when I see them cross the finish line is tremendous.
If you have been thinking about becoming a Jog Leader or starting a brand new jogscotland group in your area, don't hesitate – it's very rewarding to share your love of running with new people, and so much fun.
"It's very rewarding to share your love of running with new people, and so much fun."
Back