Morag Stark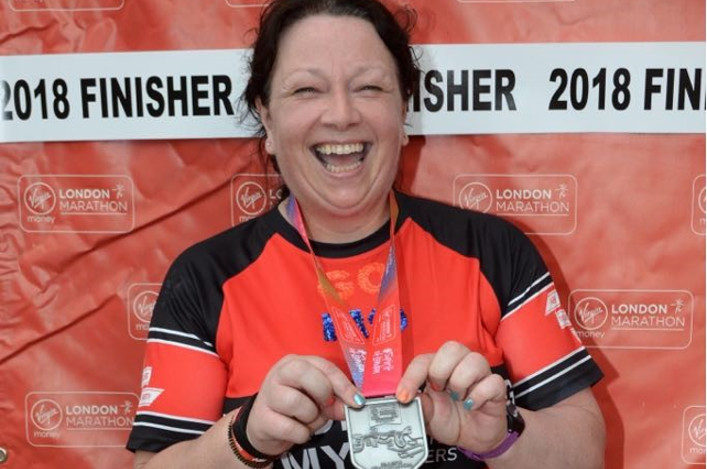 Morag Stark spent a long time feeling "too scared, too fat and too slow" to join jogscotland. But once she got started, there was no stopping her – and now she's completed the London Marathon. She tells her story…
The summer of 2016 was one of the most challenging of my life but without doubt it has made me a better person. Having lost my job in the April, I enjoyed some garden leave while waiting to start my new role. Three weeks before I was due to start, my husband of almost 30 years decided that our marriage was over. In the space of three weeks I moved to Kintore, became single and started a new job!
I knew very few people in Kintore – maybe six through the Rotary Club – I had put on weight, had high blood pressure and all that goes with that. As girls do, a priority was to find someone to do my nails! We got chatting and I mentioned that I had always fancied joining a jogscotland group but was too scared, too fat and too slow. The lady doing my nails was quick to tell me that Jog Scotland Kintore were starting a beginners' group the following week and I managed along to a couple of sessions with a Rotary chum. A few weeks later, my friend decided it wasn't for her so I had a choice, feet up on the sofa or go it alone, as I knew not a soul there. That night I was put in a team of three to do sprint (I use the word loosely) relays in a field and I loved it, due to the fact I was paired with two amazing people, Jamie and Laura, who are now close friends. Fast forward to the following March, and our amazing Jog Leader Tammy Wilson was right, I was more than ready to take on a 5K race, but was utterly terrified. But a good friend and ultra-runner Jeni Rees Jenkins used my 5K as her warm-up for her half marathon, and without her I would not have got round, I was astonished to get a sub 40 minute time, I had been aiming for around 45!
By this time I had stupidly entered the ballot for London Marathon, choosing a charity option but thought nothing more about it until 31 July when the army charity, ABF, offered me a golden ticket to run for them. Those who joined me in the ballot were not so lucky, so thought this was hilarious! A year after starting my journey I completed my first half marathon at Fraserburgh, again with Jeni by my side, and Tammy running me in with the JSK family. I loved it – what an achievement from the chubby girl who was always last at school PE!
So that brings me to the biggest challenge of my life – the London Marathon. I was so proud and more than a little overwhelmed, not least due to the hundreds of messages of love, cards and survival gifts I received from my JSK family.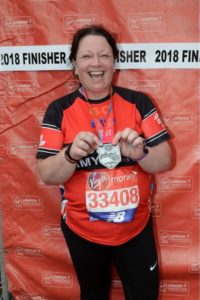 I cannot describe just what an amazing experience running in London was – a rollercoaster of emotions and lots of tears. Having trained mostly in subzero temperatures and some snow, the 24 degree heatwave was something I could not have prepared for, and made my first marathon doubly challenging. However, the amazing people of London provided water, sweeties, sun cream and even ice lollies! I made it round and crossed that finish line with a huge smile on my face.
If you are reading this and keep finding an excuse not to join jogscotland – STOP IT! Speed, size, gender – none of that matters – remember "FEAR" – Forget Everything And Run.
Back