Irene Richardson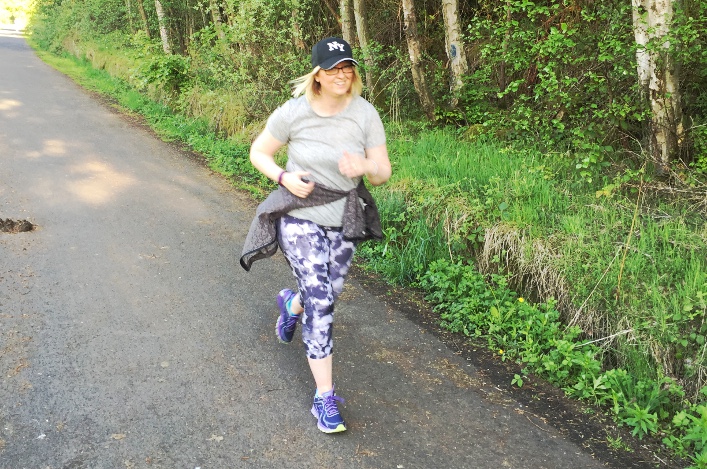 I started with jogscotland when my friend Danny Byrne put out an invitation for some "guinea pigs" through Facebook, for the new jogscotland group he was setting up.
Thanks to Danny and all his support and guidance I am now enjoying what I thought I would hate!
My fitness levels were poor, I walked a lot but found running hard, tedious and boring. I also had to take into consideration that I have type 1 diabetes. It does not hinder my everyday life but it does, unfortunately, hinder any physical and strenuous activity. However, I was determined to overcome this and improve my overall fitness. What better way to do this than with friends (and strangers!) who had similar goals?
I have been diabetic for 32 years and after years of injecting insulin into my thighs, tummy and arms I am now on insulin pump therapy. I have to admit my body was out of shape. This made me even more determined to have a go at this and get results, not only in body shape but in my long-term management of this illness.
I checked with my consultant and nurse and with their help worked out a plan for how my pump would deliver the required insulin, so as not to drop my bloods to dangerous low levels during this type of exercise.
With nerves kicking in, and feeling anxious as to how my body would respond, I attended my first training night. I found I really enjoyed it and looked forward to the next one. On returning home I tested my blood to find it was in normal range – this gave me the courage and confidence to keep going.
Imagine my surprise when, shortly after that, my consultant told me my bloods were the best they had ever been and were now creeping into the lower end of the scale! I had always sat in the middle (which is fine) but now that they were getting lower my energy levels were starting to improve and I found that a "nana nap" was not always required. This was after only four weeks!
Danny always has the time to answer any questions and talks through your concerns with great advice. He leads this group with enthusiasm and we all respect him for this. He brings out the best in each and every one of us and is always on hand to give advice during our non-running nights.
My life has changed for the better. I look forward to exercise. I miss the nights I don't run but realise my body has to rest but I enjoy getting out for the walks in between. The results say it all.
I completed my first parkrun at Cramond in 36 mins (12 minute miles), just what Danny had trained me for (see picture on left of the group celebrating together – I'm in front wearing the cap!). My next challenge will be to improve my timings but this will be little steps as my health is also a daily challenge but I can do both now. The benefits are simply amazing.
I never ever thought I would be able to run 1K, never mind 5K, and cannot thank Danny enough for giving me the determination to achieve this. His groups are fun, motivating, and most of all teach you to believe and achieve.
Back