Elaine Boyd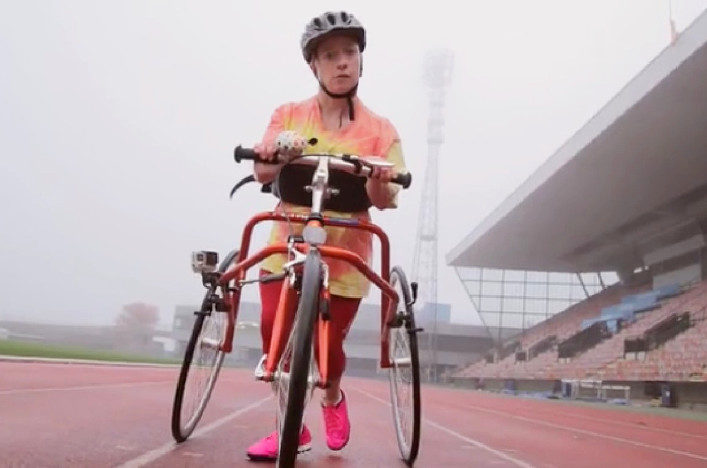 Elaine Boyd has cerebral palsy and usually uses a wheelchair to get around. But with the help of her RaceRunner, she can run for the first time, with jogscotland group Edinburgh FrontRunners for company. She tells us her story…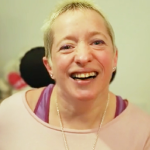 Let me introduce you to my RaceRunner, Zara. She is like a bike but has no pedals – so to make her go, I have to put on foot in front of the other and hopefully RUN. Sounds simple. RaceRunning is for people like me with cerebral palsy or similar disabilities.
I found RaceRunning through a friend who said I should give it a go. So I did, bearing in mind I had never been on a bike before or even walked, it was totally amazing. Then of course I got my own after fundraising and now I could not live without Zara.
RaceRunning is an athletic specialist sport, done on running tracks throughout the UK and the world. I have competed for Scotland in two international camps and cup games as well in Scotland. RaceRunning comes from Denmark – the first RaceRunner was built in 1991 by Connie Hansen and Mansoor Siddiqi.
Watch Elaine in action in this great video:
'Elaine' from Rami Shaya on Vimeo.
I, however, use Zara on and off the track. A few years ago I needed to find someone who would be willing to run alongside me, as my hands don't do what I want them to do so they are strapped onto my handlebars with gloves, which makes using the brakes a bit tricky. That is why I need someone to run alongside me to be my brakes. The staff that support me to do the day-to-day boring stuff of life don't always fancy a run. I was getting more and more depressed so I decided to google running clubs near me and I was lucky enough to meet Al from Edinburgh Frontrunners, and now I look forward to my Wednesday evening runs with the EFR.
It gets me out the house, meeting new folk and EFR are accepting me for who I am. Having the EFR has certainly helped me make more friends, as I have slight depression. People think because you have support workers coming in to help with day to day necessities, that you shouldn't be lonely. But I am.
I have completed one 5K colour run, two 5K Supernova runs and our very own Pride Run. The thing that I like running with Al is that they are also my coach as I have high hopes to complete a first 10K. So we can see how I progress over the year – Elaine Boyd
What is RaceRunning?
RaceRunning is a sport for people with disabilities who have impaired balance. The custom-built tricycle, without pedals, makes it possible for people who might never have been able to walk, let alone run, to experience the joy of self-powered movement, sometimes for the first time in their lives.
The discipline was accepted into World Para Athletics for the first time earlier this year, and featured at the Para Athletics European Championships in Berlin. Scotland is at the forefront of RaceRunning's development – Scottish representatives of the sport were among those who led the campaign to have it accepted as an official Para sport, and three world-class Scottish athletes – Gavin Drysdale, Kayleigh Haggo and Hannah Dines – competed in Berlin, with Gavin and Hannah both scooping gold medals in their events, while Kayleigh took silver.
* Read more – Hannah Dines recently wrote this great article about RaceRunning in The Herald.
Back