Junior jogscotland
Junior jogscotland provides a fun and simple way to get children active through a range of games suitable for primary school-aged children.
Junior Jog Course
We offer a one-day Junior Jog Course for groups of staff or volunteers (this is most often booked by local authorities or leisure trusts which have a number of volunteers or staff they wish to train, who will then run jogging groups for children). Please contact scottishathletics coaching coordinator Alison Grey for more information. You may also find your local Active Schools staff can offer this course in your area.
Junior Jog Pack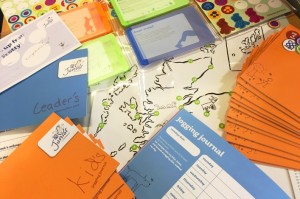 Our fun, practical resource pack includes a range of running-related games which can be used for as little as a 10 minute run-around for youngsters to let off steam, to more sustained running games. The games are a great way to show children that physical activity is fun, and will appeal to even the most unsporty of youngsters. It is also a great way to introduce them to different athletics activities.
The pack can be used by anyone – there is no need to complete a specific qualification to be able to use it.Includes:
Leader's information pack
Kid's jogging journals
Certificate
Pack of 32 waterproof activity cards
Mileage map
Sheets of stickers
The pack costs £30, which can be paid by credit/debit card or cheque. To order, please contact Sue Gyford or Colin Hutchison.
Downloadable resources
Marathon card
Cool down cards
Warm up cards
Orienteering check card
Orienteeringcards
Lucky dip out 2
Luckydipout1
Luckydipin2
Luckydipin1
Marathon class cards