Stuart Patterson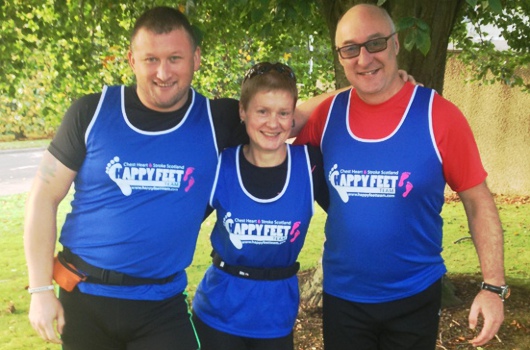 Stuart (far right) with Jog Leaders Dave and Sarah Gove
When I was 46, I had a stroke. When something like that happens, the two questions you want answered are "Why did it happen?" and "How do I stop it from happening again?" One of the answers to the second question was regular exercise.
It took about three months of recovery, but once I was feeling strong enough, I joined jogscotland in Rosemount, Aberdeen.
I'm not someone who joins things, and I thought "I'm not going to like this." But Jog Leaders Raymond and Margaret Simpson made me very, very welcome, and they made it quite easy to be part of.
Since then I've had two more strokes. After the third, I couldn't speak, and my right hand was affected. I thought "Here we go again," but things gradually came back. Physically you wouldn't know now that I'd suffered three strokes.
I was in full training mode for the Amsterdam Marathon at the time of my third stroke. My first question when I got to Raigmore Hospital in Inverness was "What about my marathon training?"
I've been very lucky that my consultant is a runner as well. He said "Maybe don't do the marathon, but what about a half?"
About three weeks after my last stroke, I did a little bit of jogging myself, just to see how it went, and it was fine, so I got back to jogscotland again, going slowly but surely.
I would say to anyone in the same boat – don't just assume that you can't do it, take medical advice.
With support of Jog Leaders Sarah and Dave Gove, I ran the half marathon in Amsterdam 10 weeks after my third stroke, keeping my pace incredibly steady all the way. The best thing is that we raised more than £900 for Chest, Heart and Stroke Scotland.
I'm so glad I got involved with jogscotland. It's the camaraderie and it's the company. Before jogscotland I was the kind of person who if my backside touches the settee, that's me. But now, every Monday or Wednesday, rain or shine, it's jogscotland time.
Back