Joyce Allardice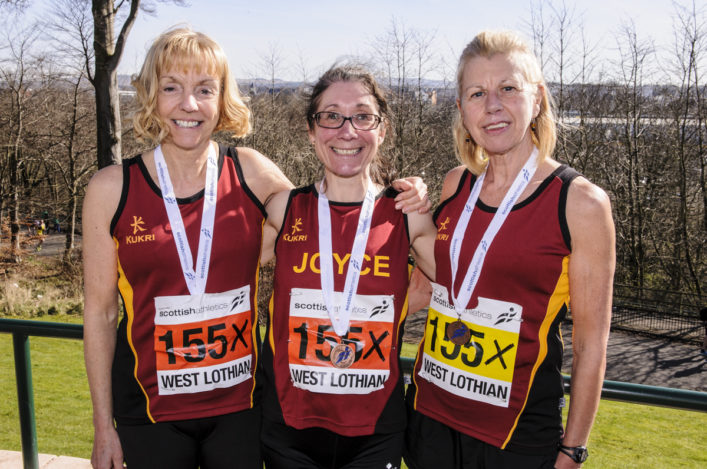 Joyce (centre) pictured with her teammates at the Scottish National Road Relays
In April 2012, at the tender age of 48 and being an ex-smoker, I tentatively made my way to the John Cumming Stadium, Carluke. It was enrolment night for jogscotland and as I timidly registered for the beginners 1 group I could never have imagined how my life was about to change. It was on that Wednesday evening that I got my first and possibly best piece of good running advice from Jog Leader Siobhan Lindsay: "Get yourself a good sports bra".
So, it was the following Wednesday night that I arrived for Week 1 of Beginners 1 (suitably-attired) and my first run in more than three decades. To my surprise and joy, I was not the slowest in the group and over the following 10 weeks with the encouragement and support of Jog Leaders and fellow runners I found myself steadily progressing. I didn't realise it at the time but it was during this first 10 week block that I must have caught the running bug! The following weeks and months flashed by as I worked my way through beginners, inters and finally into the advanced group.
As well as the obvious benefits to my health I was enjoying meeting new people, socialising outwith the jogscotland nights and going on weekend runs with my new running buddies. On 4 November 2012 I ran my first (and almost last) race, Strathaven Striders Run With the Wind 10K, in a time of 52:05. To date I have competed in well over 50 races at 3K, 5K, 6K, and 10K plus a couple of half marathons and Clydestride relays. I have met some amazing people and made some great friends along the way. I have also been fortunate enough to pick up a few age graded prizes on my travels which are nice to show off to the grandchildren who are now keen to follow in my footsteps and run themselves.
Most recently at the end of 2016 I became a member of Motherwell AC and through them also became involved with "The Thursday Thrashers", a social running group under the leadership of fellow Motherwell AC member Jo Clark. My first outing in a Motherwell vest amazingly resulted in bronze medals in the FV50 category for myself and team mates Phylis Hands and Mae McIsaac at the Scottish National Road Relays at Livingston (pictured) on Sunday 26 March 2017. The following week I was delighted to pick up the 1st female vet' prize at the Tom Scott Round the Loch 6K at Strathclyde Park.
The unbelievable feeling of pride in your own achievements when standing on the podium or lining up with all the winners for group photos is one I never imagined I'd experience. Although most of my running now is with competition in mind I still enjoy helping out at Carluke jogscotland and think it's only right that I should put back into the organisation that made it all possible for me in the first place and I take great pleasure in giving to new runners the guidance and encouragement that I was so grateful and fortunate to receive myself not so long ago.
My main goal for the future is to remain healthy and injury free as long as possible and to enjoy every race as it comes along. My dream would be to knock a couple of seconds off my PBs at every distance and achieve my first 80per cent WAVA score. Thanks to all at jogscotland and the general running community for letting me in and making me feel welcome – I am glad to be one of you.
Back