Ciaran Young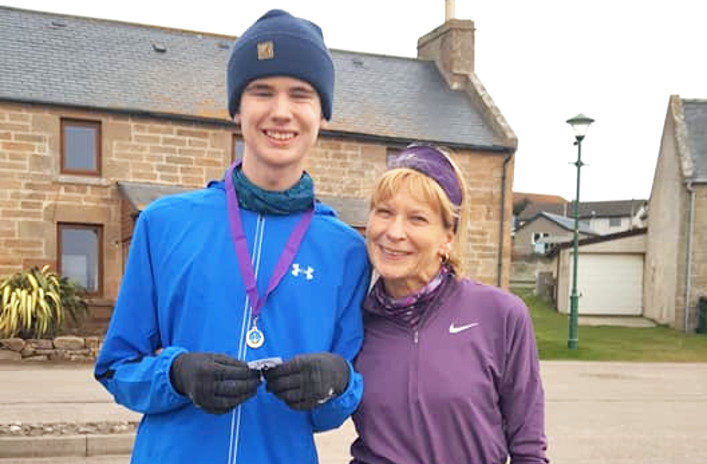 By Angie Young, Ciaran's mum (pictured together above)
My son, Ciaran, is 17, and has autism, learning difficulties and epilepsy. He is also an accomplished member of Tain Joggers!
He attends his local special needs school in Tain where they cater for pupils with severe, complex and profound additional support needs. Ciaran's younger brother Matthew (15) also has autism. Ciaran was diagnosed with autism and learning difficulties at the age of two and with epilepsy at age seven. He didn't start to speak until he was five years old, and many of his milestones took a lot longer for him to reach. When he was younger he had a lot of behavioural problems, mainly due to the frustration of not being able to communicate well and he could get overwhelmed easily by changes in his routine etc. Over the years his epilepsy has also been quite problematic at times but this has never stopped Ciaran – he has always managed to stay active most of the time despite being tired from seizures and side effects of medication. Even after a seizure, Ciaran is very positive and is keen to just get up and get on with it!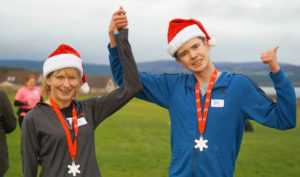 Thankfully his seizures are well controlled at present. Ciaran has always enjoyed running – when he was younger he used to love to try and run off and kept us all on our toes! Over the years his school has tried to get him involved in sports at his local mainstream school but due to Ciaran's autism, it was hard for him to be involved, especially in team sports, as he has limited understanding of rules and social skills and he struggled to fit in. He ran a couple of local 5K gala runs with his school in 2016 and 2017 and did a 3K Santa run last year and really enjoyed them so our jogscotland group was something I was keen to try with him.
I've been a member of our local jogscotland group in Tain myself for over a year and in December 2017 I asked our Jog Leader, Cynthia Duncan, if it was possible for Ciaran to come to the next Couch to 5K group, which was starting in January. Cynthia was so helpful and encouraging and so I arranged for Ciaran to come along with one of his support workers, Laura Grant, and her daughter Katie.
Because of Ciaran's epilepsy, he needs someone with him who's trained to deal with his seizures and who can administer his emergency medication if needed so it was great that Laura was keen to do the C25K along with Ciaran.
Ciaran completed his C25K in March this year along with Laura and Katie and in early April at our club he managed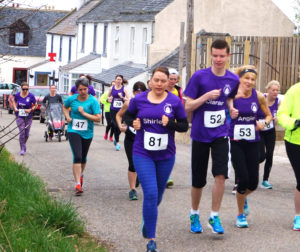 to complete his first 10K distance which he ran with me, with Cynthia joining us for the last 5K, encouraging Ciaran on! He got lovely support from our group and a cheer and medal at the end so he was just delighted with himself!
This has been an amazing achievement for him and we're so proud of him! We hope to enter him in some 5K and 10K races this season and he's already registered for the 10K at the Dramathon in October which will be a big challenge for him. One of our lovely group members has offered to buddy Ciaran for this race which was a lovely gesture.
We're so delighted at how Ciaran has been welcomed into our lovely running group and how encouraging and supportive everyone has been. Cynthia runs a fantastic group here in Tain and we are so grateful for all her help and input with Ciaran. It's been such a confidence boost for him managing to achieve what he has so far and he loves running and coming along on club nights.
Below: Ciaran with fellow members of Tain Joggers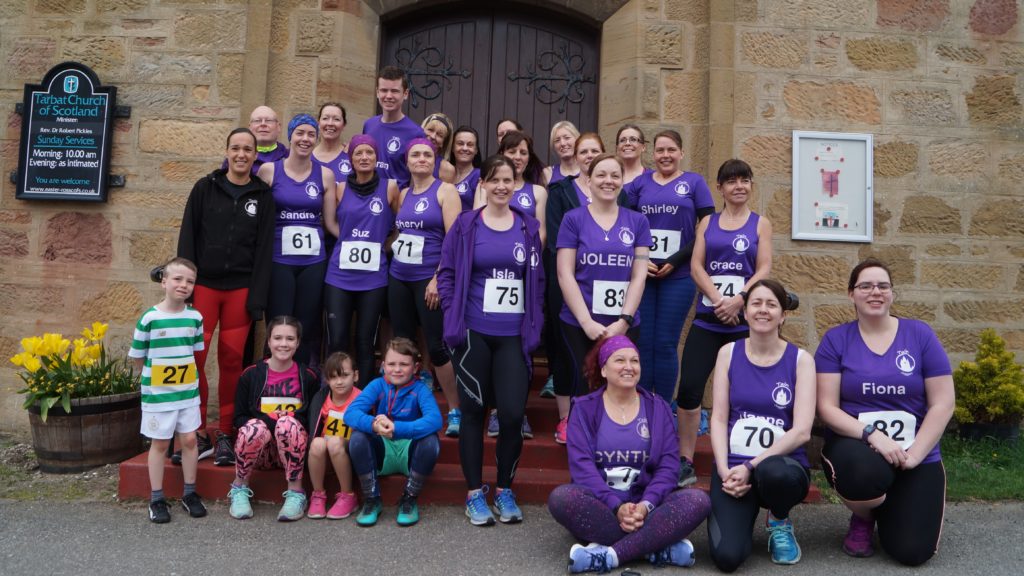 Back