Anne Sutherland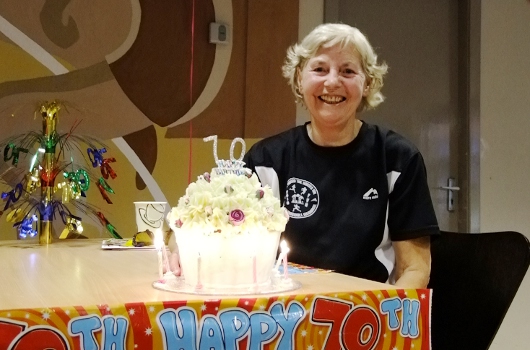 I've been jogging off and on since March 1984, and even celebrated my 70th birthday with my jogscotland group!
I ran regularly from 1984 until 1999 when my grandson was born, and I took five years off to look after him. When I started again by joining jogscotland in Linlithgow, I came off the phone to the group organiser and told my husband I was starting running again. But then I suddenly thought "I don't feel confident enough to do it, they'll be all young ones, I'll never keep up with them." I was about to call her back and tell her I'd changed my mind, but my husband said 'You're going!'"
I'm so glad he did. I wasn't fit at all when I started back and had doubts whether I'd keep up with the group but because it was so gradual and we started off on the same foot, it was great.
It's really the love of running that keeps me going along, I absolutely love it and jogscotland couldn't be better at helping – they're absolutely fantastic.
I just wouldn't feel right if I wasn't doing it, it gives you such a buzz. It motivates you for doing things with your days, and I get all the benefits of being a bit fitter. I would advise anyone who's a runner to keep going as long as they're able. Even if you slow up, what does it matter?
It was absolutely fantastic when jogscotland Grangemouth – who I now run with – held a party for my 70th birthday at the Stadium – it was a very big surprise!
I would never have got as far as I have got today if I hadn't been going to jogscotland for so many years. It gives us all the motivation that we need.
Back