Jamie Sterling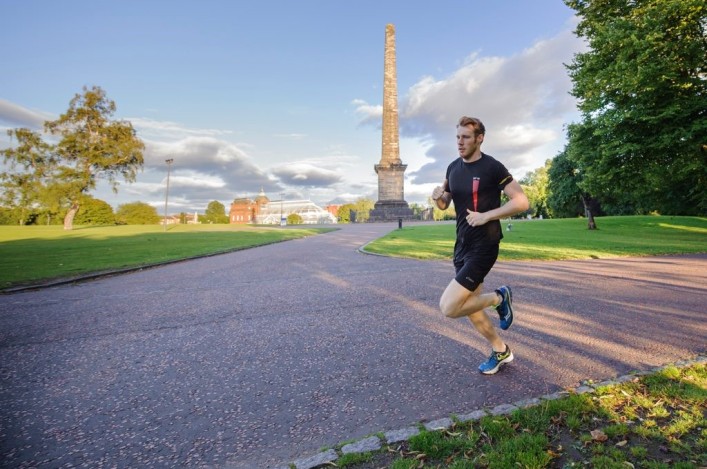 A pact to go from sofa to Great Scottish Run in about four months (made over more than a couple of beers) might not be everyone's reason for running, but it was mine. I duly started attempting to walk-run a few nights a week while friends continually promised to come the next night (never happened). Sadly I overestimated my ability, ran off far too fast and knackered myself within a couple of minutes. Defeated.
Upon hearing my frustration, I was dragged along to a run with Glasgow FrontRunners – despite protests and general fear that I'd look like an unfit idiot who'd bitten off more than he could chew. While I was definitely not the best runner there, I wasn't made to feel like it. Constant reassurance that 'we were all beginners once' felt like faint praise, however as I've progressed I've seen how true it is. I enjoyed it, it was invigorating, and after a couple of weeks I came to love running.
A typical self-employed workaholic, running became my escape from technology, a chance to explore places I'd never been before. It was an opportunity to get to know people better and share in the joy of new scenery and faster times. Yep, I became a runner – we are a special breed.
When the opportunity to be a Jog Leader came up, I jumped at it.  I had learned and gained so much from the people that supported me that I wanted to offer the same for other runners. Only a day after my Jog Leader training, I led my first run. I didn't lose any group members, no one got injured and everyone seemed to enjoy themselves. It was great.
Since then I've gained a reputation as "the mean one" – virtually guaranteed to give our more advanced groups a hill or sprint session to vary their training, however I most enjoy working with our beginners group. The chance to help people who came into running in the same state as I did, and to see them improve, gain confidence, compete in races and eventually go onto Jog Lead themselves is incredibly rewarding, and something I'm proud to be a part of.
While it may initially seem like a big undertaking, the continual support from jogscotland and other Jog Leaders to continually improve and update skills – as well as getting fresh ideas for club sessions, is incredibly beneficial and ensures that our running club is constantly challenging and enjoyable while attracting and retaining new members.
"I enjoyed it, it was invigorating, and after a couple of weeks I came to love running."
Back