Christine Garvie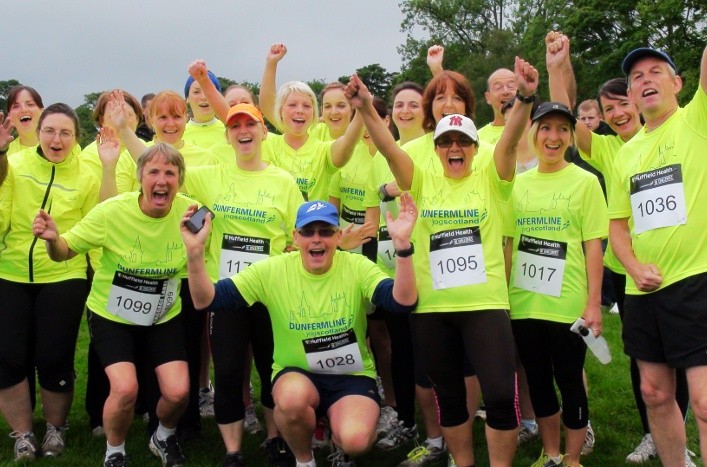 Christine (number 1099!) with jogscotland Dunfermline
My sporting activities ended on leaving secondary school in 1964 and it was not until I reached my mid-thirties that I was inspired by a neighbour to take up jogging as a way of getting fit again and kicking my 20-a-day smoking habit.
The running bug spread to our husbands and children, and before long we all became members of our local athletics club, regularly competing in all sorts of running events from cross country to marathons. Rediscovering my competitive nature, I went on to pick up a few championship wins along the way and I reckon my performance peaked at the ripe young age of 50.
Gradually I began to realise that my achievements (although modest in comparison) had developed not purely through self-determination but mostly through the help and encouragement that I received from my fellow club runners. With this in mind I felt inspired to give something back, and soon began to derive a great deal of pleasure from helping other people achieve their goals. I delighted in arranging training runs and various activities to promote ability and fitness within the club.
The opportunity to advance this came about in 2002 when I was invited to attend one of an early series of Jog Leader training courses. In May 2003, along with four other newly qualified Leaders, I helped set up jogscotland Dunfermline in the local leisure centre – one of the very first jogscotland groups – and so it began. Eleven years down the line we are still going strong and have coached and cajoled hundreds of people on their way to health and fitness through jogging. Some have gone on to join an athletics or running club or take up another activity at a higher level, some have gone on to become Leaders themselves, however, the majority remain as joggers, choosing the security, camaraderie, fun  and overall good feeling of belonging that being a member of a group can bring.
jogscotland is more of a family than just a group and here Joggers and Leaders take a great interest in each others' development and wellbeing and help each other in many ways. The wealth of helpful information and variety of activities available throughout the jogscotland network is amazing – there is something out there for everyone.
Becoming a Jog Leader has made an incredibly beneficial difference to my life, and I hope the lives of many others. It is undoubtedly the best thing outside of my family that I have ever done and I would encourage anyone who is fit and feels that they would like to give a little of themselves to help others, to consider becoming a Jog Leader. Age is no barrier to becoming a Leader, as approaching my 66th birthday I am still as passionate as ever about jogging and helping others share the same pleasure.
"Age is no barrier to becoming a Leader."
Back